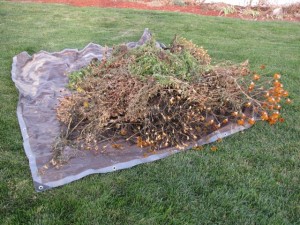 Since I have Chronic Fatigue Syndrome and Fibromyalgia I am always looking for easy gardening tips.  One of the best easy gardening tips I've ever heard is so simple yet so brilliant!
What is it?  Take a large tarp and lay it out flat. Then when you are cleaning up your garden beds then you can throw all your dead plants on the tarp and drag them to the compost pile. It takes me one or two trips instead of 8 or 10 using the wheelbarrow!
I used to hate cleaning up my yard because I would be dead tired walking back and forth and back and forth with wheelbarrow loads of dead plants for the compost. Now since I can get it all thrown on the tarp it can take a lot less time to get it done.
This works really great with old tarps that have a few holes.  Just keep one always in your shed ready to go and you can have easy dead plant hauling!