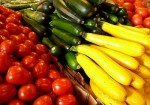 Homemade Salsa is one of my favorites. This one is so simple I make it as often as I can.
Homemade Salsa Recipe
4 cups tomatoes (canned with juice may also be used) 1 green pepper, chopped 1 large onion, diced 2 to 3 Tbsp. lime juice (to taste) 1/4 tsp.
Continue reading Garden Recipes- Homemade Salsa, Garlic Pickles and Onion Rings