A Homemade Watering Can is a breeze to make with things you already have at home.
For mine, I used an old laundry detergent bottle. You can use a milk jug and it will work well, too*.
To make a Homemade Watering Can
1. Rinse out the laundry bottle. (of course you did already rinse it to get the last bit out and put it in your washing machine right? 🙂
2. Drill a larger air hole on the side by the handle so the water will flow freely. See the hole on the top of the handle?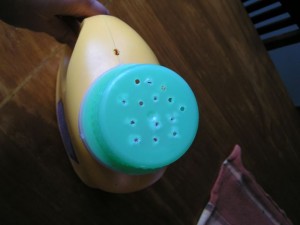 3. Drill several small holes in the top.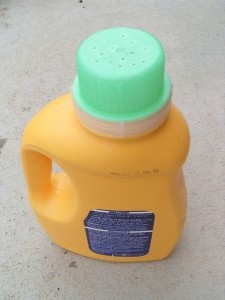 Fill with water and you are set to go! –a watering can for just pennies!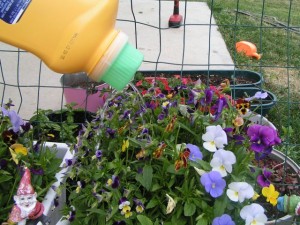 *When Astra at A journey to a dream  made a hers out of a milk jug she just used a needle, heated it up and stuck it through the top.