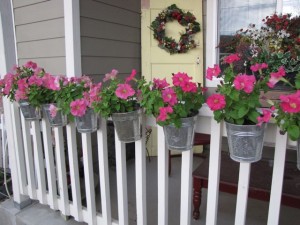 This is the first year I've really started gardening at this house.  Last year we were the first people who had just moved into a new section of our subdivision.
There was nothing! So last year we spent all year hauling compost (I think 12 truck loads if I remember right) and collecting leftover dumpster bound sod from the workers as they build the new houses around us to get our backyard started. With 4 kids, there was a LOT of mud so sod was the first thing we put in.
This year we spent a lot of time working in more compost and hauling 3 truck loads of free wood chips to get the beds mulched before I planted. Well, that was a bad idea. After all of my 30 packets plus 2 HUGE manila envelopes of seeds did not come up when I planted them, we discovered that the mulch we got had a pre-emergent on it, which prevents seeds from germinating.
I also found out that the plants do NOT like the soil here and therefore died in my homemade soil mix.
So… I ended up replanting this year 3 times in most of the garden and containers.
Finally, around the 1st of August my hard work has been rewarded! So I would love to show you some of my gardens!
My front porch. I found these cute little buckets for .25 each at a yard sale and of course snatched them up! Aren't they cute!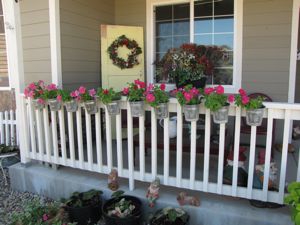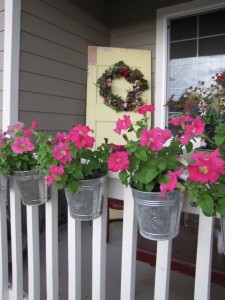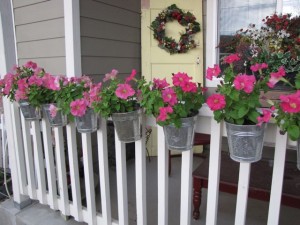 These are my great grandparents' chairs that they used to have their front porch. I have both, I just love these old chairs!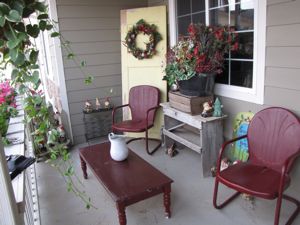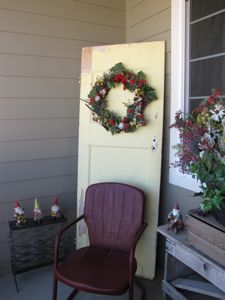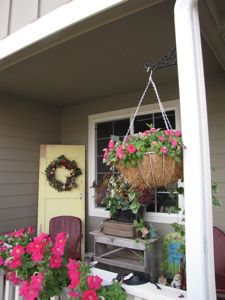 Of course, here's a small section of my huge collection of gnomes!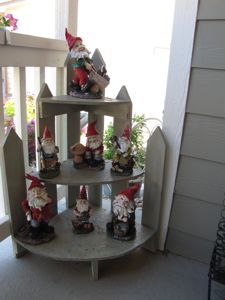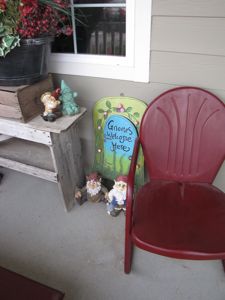 We have nothing but rock surrounding the house. This year we had so much to do there was no way I was going to move a ton of rock, so this year it's container gardening up near the house.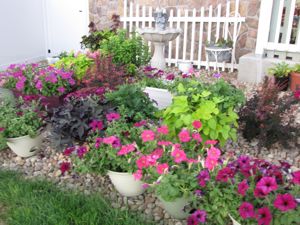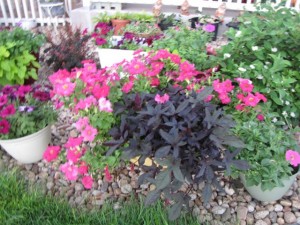 You can't see it but this is my wheelbarrow. I love it and can't believe how it's filled out!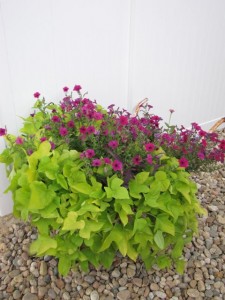 My old laundry cart. My mom's neighbor had this on the curb to throw away. Mom knew I would kill her if she didn't grab it so she nabbed it quickly before the trash guy got it. (Thanks Kathy! 🙂 )
I just lined the basket with landscape fabric, cut a few holes in the bottom and then filled it with soil.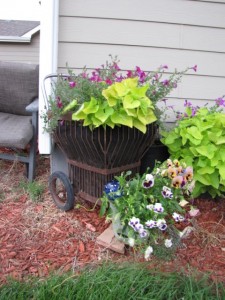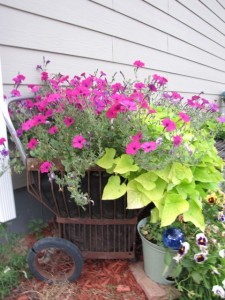 One of the best reasons to live in Colorado– Pansies all summer long!!!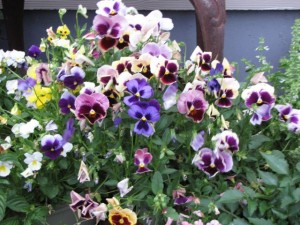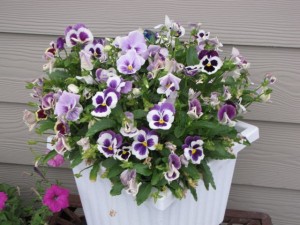 My coleus right next to the front step.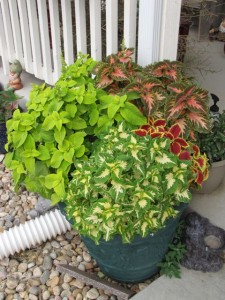 My old curb find sink. Of course Mike was just shaking his head when I had him put it in the car. I've dragged this thing around for at least 10 moves, maybe more!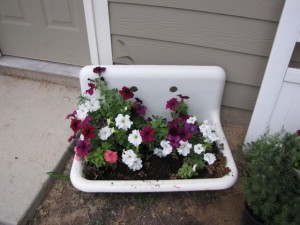 My old stove with containers all around it.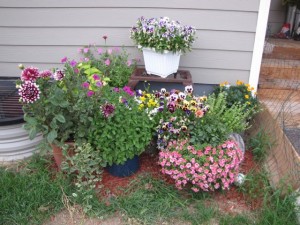 My tipsy tower I only replanted 3 times!!!  It's going to be only commercial potting soil around here until I can get the soil worked and some compost made. Those are the neighbors weeds behind it.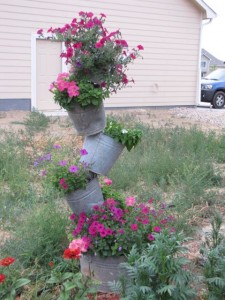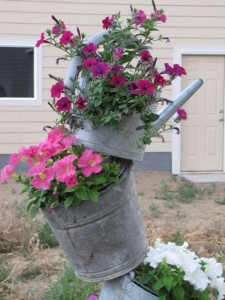 Now to my Backyard. Please note. We just moved in last year. So I'm going to show the before and after. Of course the after isn't even close to done but this was all the energy I had for this year. 🙂
The East Side Before and After
We have a lot of perennials started so hopefully next year it will all be blooming.
The Kitchen Side
These petunias are mostly in my galvanized buckets. I have them sitting right outside my kitchen window so I can see them most of the day. My kitchen window is the bay window in the "before"
We brought this screen door from our old house. I just LOVE, LOVE, LOVE it and wasn't about to leave it. The problem? It won't fit on our front door and our back deck is too small for it to be on the door.
So until we can get a deck built it's going to be a trellis for my climbing annuals which didn't come up this year. (Yes, more bad soil 🙂 And it's vinyl.)
In this corner I have one of my favorites– my milk container garden!! I only had to replant it 3 times but it was worth it!
Here is the view from the garage door. I can't believe we've come so far!
In this corner we are going to put a pergola in very corner and then toward the front we are going to put an arbor with the gate in the middle and fencing going off to each side. I'll be using antique fencing from my very first garden in my first house, 20 years ago.
I was able to save it when my uncle said they might be tearing down my old house in the future. (It was my great grandparents rental house.) This year I just stood up the gate so I could at least look at it.
See that huge pile of stuff. Well that's all sitting on my shed.  We have the wood. We collected it from the dumpsters as they were building the other houses.
It's on the free concrete slab I got by just asking the concrete guys if they could clean out their trucks in my foundation form. 🙂  The supervisor said he would just give me the extra concrete! We did pay them $100 to take the workers who did the finishing work out to lunch. (They finished it in under 5 minutes! Wow!)
For now until we can afford the siding for the shed all the wood is tarped and my garden supplies are sitting on the tarp.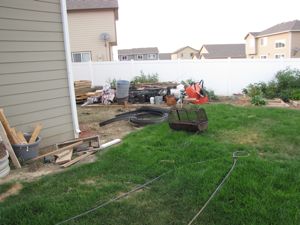 This is the back of the house. We got all this sod for $27. We used scraps for all of it except the last 160 square feet and then I just got too worn out to piece anymore. 🙂 We bought the leftovers from another sod job in the neighborhood for $1 a roll. 🙂
So that's it for this year. I have two trees to plant and then I'm done! Yeah it was a TON of work but it was nice to do when my 3 year old wanted to be outside. I had to stay outside with him because the entire fence isn't up yet.
Now I get to enjoy the fruits of my labor! These arrangements are from plants in my garden.